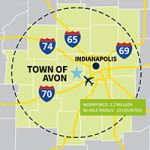 Are you considering moving to Avon, Indiana?  Avon is a suburban community conveniently located west of Indianapolis in Hendricks County.  Avon offers excellent access to the Indianapolis International Airport (IND).  The airport serves over 8.5 million passengers annually and offers round-the-clock shipping opportunities.  IND is situated eight miles southwest from downtown Indianapolis, an easy 15-minute drive for along major highways. Eagle Creek Air Park, used as a location for private planes, is only a 10-minute drive northeast. There is a wealth of opportunity in our community for you and your family to live, work and play.
In 1952, Avon had only 3 businesses all on the same corner.  Today, we have over 1,000 businesses in our community.  Avon offers a diverse business community that includes professional services, retail, distribution services and healthcare companies among the mix.  Home to award-winning schools in the Avon Community School Corporation, Avon schools boast a number of excellent academic, athletic and extra-curricular programs for students of all ages.
Avon officially became a town and received the zip code of 46123 on November 30, 1995 and our Chamber of Commerce was established in 1996.  We invite you to invest in our town, either as a resident or a business (or both!).  Click HERE to learn more about Chamber membership and to join!  Come and grow with us in Avon!
Community Numbers & Websites
In nearby Danville, Hendricks Regional Health is a 160-bed hospital complete with a 24-hour emergency room, child birth center, outpatient surgery center, rehabilitation services, women's center and lab and radiology services. Under current expansion, this hospital will be able to meet and exceed the needs of the communities it serves. Hendricks Regional Health's campus in Avon boasts a state-of-the-art Cancer Center, Immediate Care facility with extended hours, surgery center, and lab and radiology services.
Indiana University Health West Hospital is a full-service, 177 bed, community-based hospital located in Avon, Indiana, rooted in the history of excellence established by Indiana University Health's heritage hospitals: Methodist, University and Riley Hospital for Children. IU Health West is a health care environment unlike any other, providing clinical programs built around the needs of the communities of west central Indiana: heart care, cancer care, orthopedic care, emergency care, women's health, diagnostics, surgical services, rehabilitation services and much more. Above all else, IU Health West is a true healing sanctuary, where highly skilled team members and providers, leading-edge technology and the healing power of a remarkable, natural environment combine to provide an unmatched experience for patients and their loved ones.
There are over 200 physicians in the area with more than 25 medical and surgical specialties.
Avon and the surrounding area is also home to five senior living residences; with the County Home just minutes away in Danville.
Avon Community School Corporation serves more than 10,000 students in pre-k through 12th grade. They have 12 schools consisting of one early learning center, six elementary schools, two intermediate schools, two middle schools, and a high school.