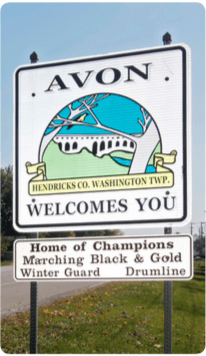 What is the Chamber?
The Greater Avon Chamber of Commerce (ACOC) is a member-driven organization and regularly assesses the needs of local business owners and executives.  Programs, products and events are created to deliver strategic solutions to those needs. Of its 270+ members, 90 percent are small businesses with 25 or fewer employees. We hope that the following information about ACOC helps you understand the wealth of opportunities offered by the Chamber; and that you are able to seize these opportunities to help you grow your business.
Funding
The Chamber is a private organization funded primarily by dues paid by member businesses and is not a government agency.
Advocacy
The Chamber will work hard to represent business interests with government, build a stronger economy and work to improve our local business climate.
Membership
Membership is open to all businesses that maintain a voluntary annual dues investment. Benefits of membership include networking opportunities, community involvement, image enhancement, political advocacy, information access, numerous discounts and benefits, and heightened credibility.
Mission
The Avon Chamber of Commerce is a business organization that protects, fosters, and enhances the success of our membership through a focused, collaborative effort. The Chamber strives to promote the continuous improvement of the common good and the quality of life in the Avon community through the pursuit of new business and the cultural, social and economic education of our citizens, by providing accurate and timely assistance to the business community.
Organization
The Chamber is an organization of business leaders who work to improve their community and the area's business climate. A volunteer board of trustees governs the Chamber. The effectiveness of the Chamber is entirely dependent on member support and involvement. A professional staff runs the day-to-day operations.
Vision
The vision of the Avon Chamber of Commerce is to be recognized as the preeminent force and advocate for business in Avon and Hendricks County.
Community Involvement
The Chamber strengthens the community by identifying needs, problems, and opportunities. It then develops programs to solve those problems and satisfy the needs. Through committees of volunteers from member firms, the Chamber implements and achieves its goals. The Chamber regularly reviews its programs, goals and results to bring about a healthier climate in which business and the community grow and prosper.